Welcome to Right to Life of Holland Area
We're all about LIFE!
Hours of Operation
Monday, Tuesday & Thursday 9:00 AM - 3:00 PM; CLOSED Wednesday and Friday
2019  High School Oratory Contest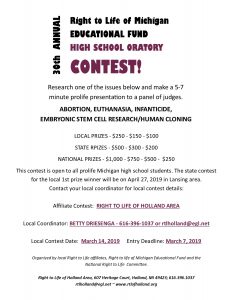 Oratory Contest open to all local Pro-Life High School students.
Sign up deadline is Thursday, March 7, 2019
Contest DATE: Thursday, March 14, 2019 @ 7:00pm at Central Avenue CRC Ministry Center.
Student Application – CLICK on this link to download: Student application 2019
***************
***************
March for Life in Holland will be held on SATURDAY, January 19, 2019 with the walk beginning at 10:00 AM at the corner of Central and 10th Street.  We will be walking around Centennial Park (approx. 20 min) followed by a Prayer Service at Central Avenue CRC, in the Ministry  Center. 
***************
Sanctity of Life Sunday will be held on Sunday, January 20th.   If you would like information (litany's, sermon ideas, children's bulletins/messages) you are welcome to stop into our office.
If you would like a bulletin insert, contact the state office at 616-532-2300 or visit there website at www.rtl.org
***************

Speaking out on the prolife issues is important!
The importance of Christians and church leaders speaking out on prolife issued cannot be understated! When a congregation or a group of Christians know that abortion is wrong and HEALING from past abortions can be experienced, a true respect for all life (from conception to natural death) can and will be achieved.  By remaining silent and inactive on these issue of abortion, we continue the pain of hurting women and men! Silence on abortion, euthanasia, or stem cell transplant/human cloning can send the wrong message. RTLHA clearly speaks out against these atrocities but with love and highlighting the sanctity of ALL human life. We also share that God FORGIVES and HEALS!
While the Bible does not mention abortion or euthanasia it clearly states the value of life.   (NIV)
Psalms 127: 3 – Children are a heritage from the Lord…
Luke 1: 15 – …for he (John the Baptist) will bring be a joy and delight to you and many will rejoice…                                                                                                             \
Matthew 5: 19 – Anyone who breaks one of the least of these commandments and teaches others to do the same will be called least in the kingdom of heaven, but whoever practices and teaches the commands will be called great in the kingdom of Heaven.
Matthew 22: 37-40 – Jesus replied, "Love the Lord your God with all your heart and with all your soul and with all your mind. This is the first and greatest commandment. And the second is like: 'Love your neighbor as yourself.' All the Law and the Prophets hang on these two commandments."
Matthew 25: 40 – "the King will reply, 'I tell you the truth, whatever you did for one of the least of these my brothers of mine, you did for me'…                     .
1 John 2: 4-6 –    The man who says, "I know him," but does not do what he commands is a liar, and the truth is not in him.  But if anyone obeys his word, God's love is truly made complete in him. This is how we know we are in Him.  Whoever claims to live in him must walk as Jesus did.
Matthew 5:14-16 – "You are the light of the world. A city on a hill cannot be hidden.  Neither do people light a lamp and put it under a bowl.  Instead they put it on its stand, and it gives light to everyone in the house.  In the same way, let your light shine before men, that they may see your good deeds and praise your Father in heaven.
Download a FLYER of Pro-Life Bible Verses:    ProlifeScriptureReferences
****************
Board of Directors
Doug Walcott – President
Pat Bekius – Vice President
Rich Newhouse – Secretary
Marylou Mast – Treasurer
Pam Ashley
Dan Barman
Tom Boodt
Alicia Clark
Roger Gates
David Peterson
Debbie Stora
Sara Ureel
Becky VanderPol
Barb VanDyke
Elaine Venema
Kurt Vegt
Honorary Board Members
Diane Mulder (founding member)
Betty Roelofs
Linda Nyhof
Staff Members 
Ann Wilson – Executive Director EMAIL: awilson.rtl@gmail.com
Betty Driesenga – Administrative Assistant EMAIL: bdriesenga.rtl@gmail.com
Sue Lubbers – Administrative Assistant EMAIL: slubbers.rtl@gmail.com
Ruth Ann Gates – Administrative Assistant: EMAIL: rgates.rtl@gmail.com