Welcome to Right to Life of Holland Area
We're all about LIFE!
Hours of Operation
Monday, Tuesday & Thursday 9:00 AM - 3:00 PM; CLOSED Wednesday and Friday
Be Informed, Be Educated, Be in the Know:
Dismemberment Abortion Ban Petition Drive

Starting July 1st – Right to Life of MI and it's affiliates will be circulating a petition to end Dismemberment Abortions – this is NOT a ban on abortion but a ban on a HEINOUS procedure.  Dismemberment Abortions (D & E) is a barbaric second trimester abortion procedure where the baby's body is torn from limb to limb to end this precious life. 95 % of all 2nd trimester abortions are done this way in MI.  This procedure takes 2 days to complete so this is not used in an emergency situation.  If a woman has had a miscarriage, where the baby has already died, this procedure will still be legal to preform it would ONLY ban it for abortions!  Dismembering a human being is NOT an acceptable medical practice, in fact most abortions are done for social or economic reasons not because of a health problem with the woman or child. However, the sad truth is some unborn babies have serious medical conditions, just like many adults.  Our society would NEVER condone killing a disabled infant right after birth by tearing his/her arms and legs off, and it shouldn't condone it before his/her birth. What's needed most is accurate medical information and resources, as well as information about perinatal hospice or other services available to help the mother and child.

Why not a Heartbeat Bill?  Michigan currently has a state law that bans ALL abortions (since the late 1800's) and that law has never been overturned.  If we passed a Heartbeat Bill then it would over ride MI's current state ban on abortions and when Roe vs. Wade and Doe vs. Bolton are overturned the "new Heartbeat Bill" would take into affect and MI would have legalized abortion before the heartbeat of an unborn baby is detected. The other quandary MI would have is since Roe v Wade is still in effect – a Heartbeat Bill could NOT be enforced!  We do NOT want to legalize abortions at anytime in MI, which is why we have chosen NOT to do a Heartbeat Bill but the Dismemberment Abortion Ban petition drive, which would take into effect within the year and overide Gov. Whitmer's veto of the ban.

How can you help? 1. By signing one of the petitions that will be circulating in your area, but please make sure you are signing the Dismemberment Abortion Ban petition!! You can sign both the Heartbeat petition and the Dismemberment petition.  2. Help circulate the petition. If you would like to help in this way, please call our office 616.396.1037 to get brief instructions and petitions. 3. Encourage your family, friends and churches to have a petition drive.  YES, it is legal to host a petition drive in your church, your pastor can mention it (comments or sermons), it can be in your bulletins and newsletters/mailings. If your church needs clarification, call our office and we will send you or your church a flyer with information on church participation. 
***************
 Precious Baby Contest 2019 – Is there a Precious baby in your home who is 24 months or younger on or before August 24, 2019?
Enter a photo of this little one in our Precious Baby Contest at the link found below, starting  July 1st and ending July 25th. Voting for the most Precious babies will begin on August 5th online and will end on August 24th at midnight.  You will also be able to vote manually at the Hudsonville Fair from August 19-24 at the Right to Life of Holland Area Booth.
$1.00 = 1 VOTE
To submit and photo and to Vote (in August ONLY) click on the link below!
https://secure.ministrysync.com/ministrysync/event/?e=16270
1st Prize – $250 Master Card Gift Card
2nd Prize – $200 to deVries Studios in Zeeland, MI
3rd Prize – $100 Gift Basket from Mom and Baby Again in Zeeland, MI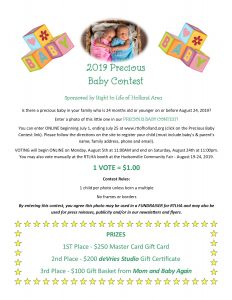 ***************
2019 Focus on Life Annual Dinner
When: Tuesday, October 22, 2019
Where: The Pinnacle Center in Hudsonville, MI
Guest Speaker: Dr. Mark Newman, founder and president of Speaker for Life, a training firm dedicated to equipping pro-life advocates nationwide with public speaking skills. He also heads MovieMinistry.com, a site that helps Christians use movies to reach out to others.  He has appeared on The O'Reilly Factor, and in the Times magazine.  His articles appear on The Christian Post, Catholic Exchange, and on hundreds of other websites.
***************
Board of Directors
Doug Walcott – President
Pat Bekius – Vice President
Rich Newhouse – Secretary
Marylou Mast – Treasurer
Pam Ashley
Dan Barman
Tom Boodt
Alicia Clark
Roger Gates
David Peterson
Debbie Stora
Sara Ureel
Becky VanderPol
Barb VanDyke
Elaine Venema
Kurt Vegt
Honorary Board Members
Diane Mulder (founding member)
Betty Roelofs
Linda Nyhof
Staff Members 
Ann Wilson – Executive Director EMAIL: awilson.rtl@gmail.com
Betty Driesenga – Administrative Assistant EMAIL: rtlholland@egl.net
Sue Lubbers – Administrative Assistant 
Ruth Ann Gates – Administrative Assistant: EMAIL: rgates.rtl@gmail.com