Welcome to Right to Life of Holland Area
We're all about LIFE!
Hours of Operation
Monday - Thursday 9:00 AM - 3:00 PM
Silent Auction at Holland Fish and Game in Zeeland, MI
*****************************************
13th Annual
Holiday

Auction
with a

"Touch of Brass"
WHERE:

Holland Fish and Game Club

10840 Chicago Drive, Zeeland, MI
WHEN:

December 3, 2015 – 5:00PM – 8:00PM

Example of Auction Items:

2 Detroit Tiger's Tickets + $40 MC Gift Card for April 9, 2016

7th Generation Kindle (WIFI, 4GB, Daylight Readable, Touch Display)

Vivitar All Weather ViviCAM VX426 Digital Camera (10 Mega Pixels, 8x Zoom)

$250 GC to Splash Universe Water Park

Basket of Norwex Supplies

Furniture (2 end tables and a coffee table/shabby chic)

Photography Photo Session by SMV Photography (hour session, choose 5-10 images, images will be edited and placed on a flash drive with the copyright and photos will be available in 1-2 weeks)

Handcrafted Dollhouse

Handcrafted Birdhouses an 1 Birdfeeder w/birdseed

1 Week Stay at a 3 Bedroom, 2 bath Cottage on Upper Silver Lake – Summer 2016 (Subject to availability)

Canned Jams and Salsa

$100 GC to Sky Zone Trampoline Park

$100 GC to Craig's Cruisers in GR

Weekend Stay in Fall or Spring 2016 at a Lake MI front cottage

Local Dining Gift Cards – Pereddies, City Vu, Beechwood Inn, James Street Inn, Salt & Pepper, Crazy Horse, Village Inn, BajaGrill      Margarita's and many more!

 Homemade Frozen Apple Pies

Handcrafted & Home and Garden Items (Quilts, pillows, night stands, pictures, candles, wall hangings, home décor items)

Handcrafted Scarves (Winter and Fashion)

Service Gift Cards (for oil changes and gas)

Family Fun Gift Cards/Certificates, Kids games, doll blankets, handcrafted stuffed animals & slippers

Miche Purses & Handcrafted Purses

Jewelry (Premier and Handmade)

Instant Buy Table (candles, pictures, purses, scarves, jewelry, and more!)
5:00-6:00

– SILENT AUCTION will take place, you will receive instructions when you arrive.  You will be able to stroll around the room to look at each item/grouping of items and then place your bid(s).
6:00-7:00

– Appetizers, desserts and punch will be catered by Alpen Rose.  This will be a time of fellowship while the bids are compiled and final bills totaled.
7:00-8:00-

Winning bids will be announced and final bills handed out.  You will be able to pay for and take your winning item(s) when you leave.  (We will have volunteers to assist you).
Please RSVP to ANN at 616.396.1037 or awilson.rtl@gmail.com by November 25, 2015.
 Click below for an Auction Invite
********************************************************************************
 Fundraiser for Right to Life of Holland Area will be held at Russ' Eastown (ONLY) on Tuesday, January 19, 2016  from 5pm – CLOSING (must present coupon to cashier when paying).  Russ' will donate 25% of your bill to Right to Life of Holland Area. Hope to see you there!!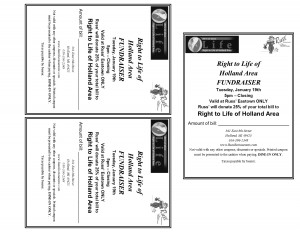 Coupons for RTLHA Fundraiser
Board of Directors Doug Walcott – President Pat Bekius – Vice President Rich Newhouse – Secretary Marylou Mast – Treasurer Dan Barman Tom Boodt Alicia Clark Roger & Ruth Ann Gates David Peterson Sara Ureel Barb VanDyke Elaine Venema Kay Vredeveld Nancy Westrate Honorary Board Members Diane Mulder (founding member) Betty Roelofs Linda Nyhof Staff Members Dr. James W. Johnson Ph.D. – Executive Director EMAIL: jwjohnson.rtl@gmail.com Ann Wilson – Director of Finance EMAIL: awilson.rtl@gmail.com Betty Driesenga – Administrative Assistant EMAIL: bdriesenga.rtl@gmail.com Sue Lubbers – Administrative Assistant EMAIL: slubbers.rtl@gmail.com