Welcome to Right to Life of Holland Area
We're all about LIFE!
Hours of Operation
Monday, Tuesday & Thursday 9:00 AM - 3:00 PM; CLOSED Wednesday and Friday
To VOTE in the Precious Baby Contest/Fundraise – click on the Light Blue BUTTON ABOVE, then click on Vote/Give, find the Precious Baby, click on the baby you are voting for.

REMEMBER voting begins on AUGUST 8TH and ends on the 27th at 10pm!!
****************
VOTE for LIFE…click on this link for a Personalized Prolife Ballot          http://election.rtl.org/ballot
*****************
Welcome to Right to Life of Holland Area!
We are one of more than 100 Right to Life of Michigan affiliates. Right to Life of Holland Area (RTLHA) serves a 10 Zip Code Area which includes Georgetown Township to the East and Hudsonville; we also have a number of supporters from the Jenison area. We specifically serve the following units of government: Allendale, Hamilton, Holland, Macatawa, Saugatuck, West Olive, Zeeland and some areas in Allegan County.
We are a 501c4 non-profit volunteer organization made up of people of different political persuasions, various faiths and diverse economic social and ethnic backgrounds

.We work PEACEFULLY to advance identified Life issues. We are committed to articulating and protecting the right to life of all human beings, born and unborn. This commitment is derived from a belief that each human being, from the time of fertilization to natural death, has an immeasurable dignity and unalienable right to life. We oppose illegal and violent means to achieve our goals. To counter violence with violence is against our ideology.
****************
GIVE to Right to Life of Holland Area!
Heart Beat Monthly Supporter: As a monthly supporter your donation will be automatically transferred to the Right to Life of Holland Area (RTLHA) account. The monthly withdrawal to RTLHA is ongoing until you, the donor, make the decision to cancel in writing. You may also send a send a check into RTLHA monthly!! Benefits of being a Heart Beat Monthly Supporter are:
1. RTLHA annual membership
2. Right to Life of MI (RLM) annual membership
3. RTLHA newsletter which is sent out 3-4 times a year
4. RLM newsletters which are sent throughout the year
Download this form, fill it out,

return it with a VOIDED check or a deposit slip

to RTLHLA  (607 Heritage Ct, Holland, MI 49423) and RTLHA will get you signed up!  Questions? Call Ann at 616-396-1037 or email at awilson.rtl@gmail.com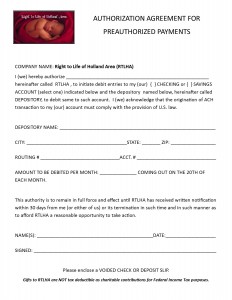 ****************
How can YOU connect with Right to Life of Holland Area?
Do a Sip-A-Cup Drive

Host a Soup Supper

Conduct a Membership Drive and/or become a MEMBER

Collect an Offering

Volunteer at our office

Become involved with one of our events (see our EVENTS page – Oratory Contest, Walk/Run, Car Show, Precious Baby Contest, Annual Dinner, Auction, Sanctity of Life March and Memorial Service)
Call our office at 616.396.1037 or email rtlholland@egl.net
Board of Directors
Doug Walcott – President
Pat Bekius – Vice President
Rich Newhouse – Secretary
Marylou Mast – Treasurer
Dan Barman
Tom Boodt
Alicia Clark
Roger & Ruth Ann Gates
David Peterson
Sara Ureel
Barb VanDyke
Elaine Venema
Kay Vredeveld
Nancy Westrate
Honorary Board Members
Diane Mulder (founding member)
Betty Roelofs
Linda Nyhof
Staff Members 
Ann Wilson – Director of Finance EMAIL: awilson.rtl@gmail.com
Betty Driesenga – Administrative Assistant EMAIL: bdriesenga.rtl@gmail.com
Sue Lubbers – Administrative Assistant EMAIL: slubbers.rtl@gmail.com